Introduction
~
Ever wonder why you are here or maybe even how you got here? Well, if you are a descendant of the Olszewski's of Western Pennsylvania, here is a look at your ancestors who came here to America from Poland.
Are you a descendant of the Olszewski's of Western Pennsylvania? Do you know if you are or you are not? if you are a relative, do you know how is it that you are related and to whom? Do you know the history of where your ancestors came from or when they first came to America, and who it was that came and why? Do you care or ask yourself why should you care? Well, you should care because it is because of these Olszewski ancestors that you are here reading this.
By way of introduction, I am Raymond Vance Olszewski, born on 7 July 1939 in Tarentum, Harrison Township, Allegheny County, Pennsylvania. That's me in the photo on the right taken on my 82nd birthday while living in Eagan, Minnesota. This work will hopefully present answers and/or provide insights to the questions I posed above. Please contact me at: ROlszewski@aol.com should you have questions about your past or have additional information you would like to share how you became part of this amazing story about the Olszewski's of Western Pennsylvania.
My parents were William Vance Olszewski (B:1911 D:1955) and Anna Marie Ajak (Aciak) (B: 1917 D: 2009) who gave birth to me in 1939 and later gave birth to my brother, Robert William in 1945. Dad was 100 percent Polish; the fifth child of twelve that were brought into this world by Jozef "Joseph" (B: 1882 D: 1945) and Maryanna Runewicz Olszewski (B:1884 D:1965. Joseph was born in the village of Laskowicz, Monki County, Gielzyn, Podlarski Province, Russian-ruled Poland. Maryanna was born in Rak, Skrwilno, Rypin County, Kuyavian-Pomeranian Province, Russian-ruled Poland. My mother, Anna Marie was 100 percent Slovakian, the fourth of seven children born and raised by Michael George Aciak (B: 1884 D: 1959) and Theresa Lucasek (B: 1884 D: 1963) Ajak (Aciak). Michael Aciak was born in the village of Mala Bycta, Czechoslavia, which at the time was ruled by the Austrian Empire. My Slovakian ancestors are presented following the story of the Olszewski family. Click here to take you to the Ajak family story.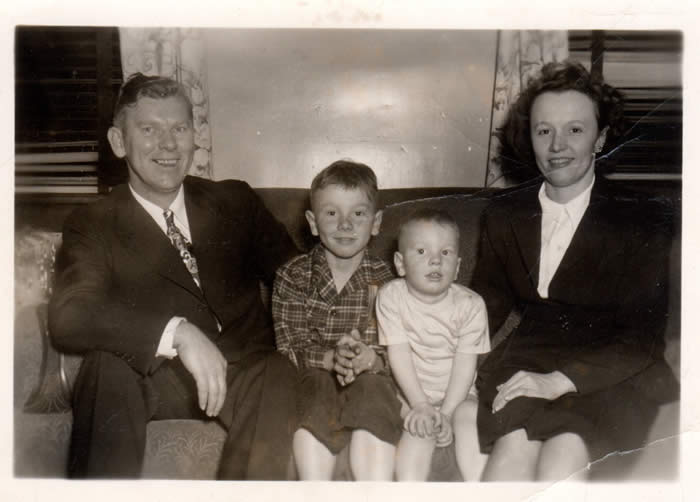 \William Vance and Anna Marie Ajak Olszewski, Raymond Vance Olszewski and Robert William Olszewski
Taken about 1945
My plan for this tribute to my ancestors is to write the story that presents as much information as possible that tells the story of my family's history. I had given serious consideration to publishing the information in a separate book, but, I've been through that before and opted to use the Internet, which has its advantages as it 'never forgets'. This record includes an extensive look into where the Olszewski's were originally from in Europe, who they married, what they did for a living, and known vitals. I welcome any additional information that relatives may have and, hopefully, are willing to share to add futher value to this family's history. To guide me in my understanding of my roots, I found it inheritantly necessary to understand Polish history, language, and religion. Fortunately, the Internet was and continues to be very helpful in producing for what I believe to be the most accurate assessment of the Olszewski's of Western Pennsylvania.
To help me with the Polish side of my family, I hired the services of a genealogy research firm called Polish Origins,

who are located in Poland. Polish Origins is also a 'touring agency' and should anyone want to visit Poland I am certain they will take good care of you. The Research Manager of the project is Ms. Katarzyna "Kasia" Tonia and the Genealogist is Daniel Pczkowski. Records were reviewed that were found by them in Polish Roman Catholic Church Parishes in Gielczyn and Skrwilno. These records confirmed the names of the villages where the Olszewski relatives originated and much more about their births, baptism's, marriages, and some deaths. The information from these reports became very valuable as it answered many of my questions about the origin of the Olszewski family putting to rest numerous rumors as well as conflicting data about that subject. I combined Polish Origins' three reports into one which is available by clicking here. The data from the reports has also been incorporated into my ancestry.com family tree that can be found on Ancestry.com. The name of my tree is: 0-Olszewski/Ajak Family Tree. You can also find it on myheritage.com.
Western PA: A Cultural Melting Pot
~
At the time when my grandparents lived in the "old" country, Poland did not exist. Polish people from the first Poland Republic became ruled by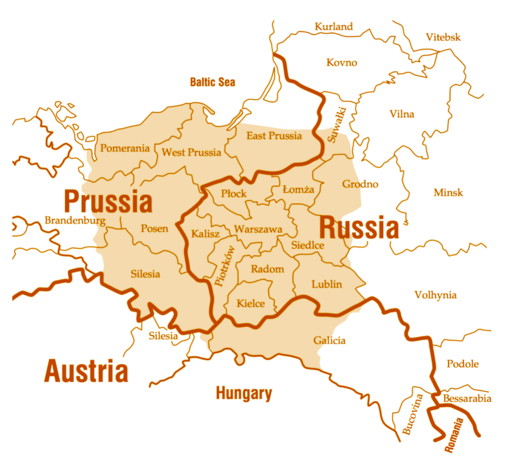 three different regimes, Russian, German, and Austrian. The map highlights today's Poland in brown within those three empires. When our relatives came to America in the late 1800s/early 1900s, they declared they were from Prussia, Russia, or Austria. Western Pennsylvania became the new home for millions of immigrants who came to America and became an ingredient in the cultural melting pot bringing together many different enthnic cultures.
My mother and dad, William and Anna, were both born in America and they were married in West Tarentum in 1937 at St. Clements, a Slovakian Church. Dad was 26 and Mom was 21. At the time for someone to marry outside of their ethnic origins was considered somewhat controversial, but, my Dad was not the first of his family to do so as my Aunt Helen, his older sister, married a German descendant named Robert "Bob" Gibbs.
As far as can be determine, three Olszewski brothers who were bon in Poland came to America in the late 19th century. They were Wojciech "George", Dominick, and Jozef "Joseph." All three of them married and raised huge families in Pennsylvania, West Virginia and Ohio. To pull the thread of the cultural hookups mentioned earlier, here is a chart that shows how the offspring of each of the three Olszewski brothers married culturally.
Olszewski Family Ethnic Marriages

Jozef "Joseph" & Maryanna Runewicz Olszewski

My Grandparents

Wojciech "George" & Victoria Runewicz Olszewski

My Grand Uncle and Grand Aunt

Dominick and Karolina Sczep Olszewski (Laska)

My Grand Uncle and Grand Aunt

Their 10 children & their Spouses

(#) shows number of offspring

Their 7 children & their Spouses

(#) shows number of offspring

Their 2 children & their Spouses

(#) shows number of offspring

Josephine & Mieczyslaw Kaliszewski (1)

Polish-Polish

Mary & Anthony "Ollie" Skudneski (3)

Polish-Polish

Wanda & Frank Isgan (3)

Polish-Lithuanian

John & Thelma Romanowski(1)

Polish-Polish
Julia & George Rusiewicz (2)
Polish-Polish
Louise - never married
N/A

Stanley & Dorothy Markowski(3)

Polish-Polish
Anthony & Regina Dymkoski (1)
Polish-Polish

Helen & Robert Gibbs (0)

Polish-German
Lillian & Walter Winkler (2)
Polish-Polish

William & Anna Ajak(2)

Polish-Slovak
William & Stella Luczak (2)
Polish-Polish

Walter & Julia Swatchick(3)

Polish-Polish
Chester & Mary Valiasck (2)
Polish-Slovakian

Jane & Walter York (3)

Polish-Dutch/Flemish
Henry & Helen Rudzki (0)
Polish-German

Mildred & Charles Skurja(3)

Polish-Ruthernian

Frank & Constance Szpakowski(2)

Polish-Polish

Constance & Daniel Alex (0)

Polish-Syrian
It was three Olszewski brothers who left their homes in Russia-occupied Poland in the late 1800s/early 1900s and fortunately for me one settled in Western Pennsylvania. Others came also, but moved on to West Virginia and Ohio. Over the past 40 years collecting genelogical data, I was amazed at how much I learned about my Olszewski relations and all their relatives. I hope you will find what you read to be informative and useful in your own pursuits to learn more about your family's background. That which is written here is based on data that can be found contained in the family tree that I created using the genelogical services of Ancestry.com. You are welcome to access my tree named "0-Olszewski/Ajak Family Tree." It holds over 4,000 records on over 3,000 individuals. If you would like an invitation to have access to my family tree, write me at: ROlszewski@aol.com and I will send you an invitation. You might even consider creating your own family tree and carry on as new cousins are brought into this world. You are most welcome to use any or all of that information contained in mine which pertains to your own family.
To read more about the subject of the aforementioned cultural melting pot that happened in Western PA, I refer you to an excellent paper written by Chris J. Magoc of Brackenridge, PA. The paper he published in 1993 can be found by clicking here. Chris did a great service to the area's history by conducting an in-depth study about how many ethnic groups came here and contributed to the successful steel manufacturing in the area. The 76-page paper summarizes the growing population of the Poles, Slavs, Germans, Italians, etc. in the communities located in the Allegheny-Kiskiminetas River Valley to include: New Kensington, Arnold, Braeburn, Tarentum, Brackenridge, Natrona, West Natrona (Ducktown), Natrona Heights, Vandergrift, and Buffalo Township. Shown below is a Google map that marks the town of Creighton where Glassmere is located; just about 10 miles northeast of Pittsburgh (Go Steelers!).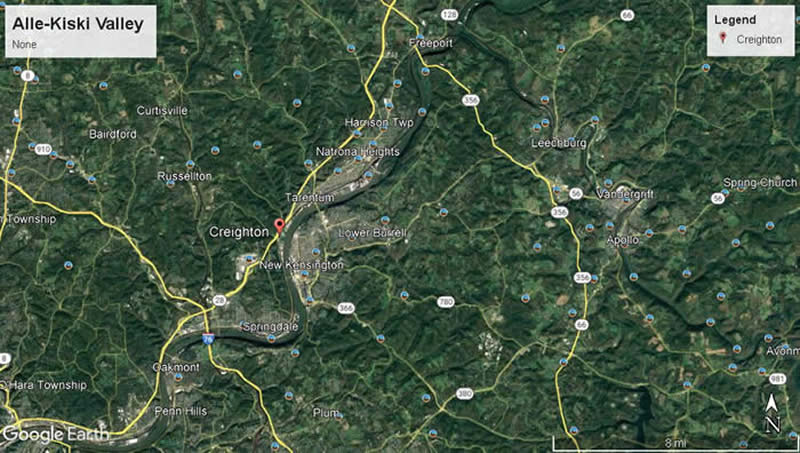 The Village of Glassmere
~
It has been well over a century since the two of three Olszewski brothers who came to America from Russia-occupied Poland and settled in Western Pennsylvania. The third brother, Dominick who also came to America, settled in West Virginia. George and Joseph decided to build their home on Marion Street in the village of Glassmere in the early 1900s. According to one source I found, Glassmere is named after two Glasmire brothers who came to America in 1802 from Alsace, a city in northeastern France near the German and Swiss borders. According to the source, the Glasmires opened an early glass plant in what would become named Glassmere. Source: Guido, George, author Neighborhoolds of the Alle-Kiski Valley published 2021.
George and Joseph Olszewski's families occupied the house they built together all those years until 2021 when the last Olszewski descendant owner sold it. That house was large enough to accomodate two separate families, which raised 17 children, ten on one side and 7 on the other of the huge house. The piece of property it was on was purchased originally from the Glassmere Land Company. One of my cousins, Charlie Olszewski, told me that our grandfather, Joseph, was the 'unofficial' Mayor of Glassmere, as he was quite popular as he had a still in the basement of that house. I learned later that he was also a proud member of the Polish Falcons. Glassmere was full of immigrants, many who came from Poland. Photos shown below are of George and Joseph and their respective wives, Victoria and Maryanna and in the middle is the house they built and raised all of my many cousins. Below those photos is a list of names I extracted from a 1927 U.S. City Directory that listed those who resided on Marion Street. The bold names are Olszewski relations.
| | | |
| --- | --- | --- |
| | | |
| Wojciech "George" and Victoria Runewicz Olszewski | 505 & 507 Marion Street, Glassmere, East Deer Township, Allegheny County, Pennsylvania, USA | Joseph and Maryanna Runewicz Olszewski |
| | | | | |
| --- | --- | --- | --- | --- |
| Residence # | Last Name | First Name | Position | Company |
| Marion | SuCato | Antonio | Watchman | None Id'd |
| 168 Marion | Kusnyer | John | Laborer | None Id'd |
| 168 Marion | Penn | Rosa & George | Unk | Unk |
| 168 Marion | Holizna | Michael & Anna | Grinder | Ford Motor |
| 168 Marion | Wlodyka | John & Mary | Glass Cutter | Ford Motor |
| 169 Marion | Wielobob | Paul & Nellie | Laborer | Ford Motor |
| 170 Marion | Pojnar | Michi & Anna | Laborer | Ford Motor |
| 171 Marion | Chladny | Andrew & Mary | Laborer | Ford Motor |
| 173.5 Marion | Herczuk | Albert & Anna | Laborer | Unk |
| 173.5 Marion | Rovnak | John & Anna | Finisher | Ford Motor |
| 174 Marion | Waltenbaugh | Ralph & Sarah | Brick Layer | Unk |
| 176 Marion | Samobrat | John | Laborer | Ford Motor |
| 177 Marion | Runewicz | John & Kazimira | Laborer | Ford Motor |
| 178 Marion | Skudnewski | Alex & Mary | Laborer | |
| 179 Marion | Olszewski | Joseph & Mary | Laborer | Ford Motor |
| 179 Marion | Olszewski | Josephine | Laborer | Ford Motor |
| 180 Marion | Matovcik | George & Anna | Laborer | |
| 181 Marion | Treshak | George & Mary | Laborer | |
| 182 Marion | Kuchta | John & Mary | Laborer | |
| 186 Marion | Stanko | Michi & Ella | Grocery | |
| 187 Marion | Stofega | John & Rose | Laborer | |
| 188 Marion | Ziemianski | Mary (Widow) +3 | Laborer | Ford Motor |
| 189 Marion | Petron | George & Mary | Laborer | Ford Motor |
| 190 Marion | Tartrn | Carl & Sophie | Laborer | Ford Motor |
| 191 Marion | Kusnyer | George & Mary | Laborer | Ford Motor |
| 175 Marion | Dzlubek | John & Texla | Laborer | Ford Motor |
| 170 Marion | Olszewski | John | Laborer | |
| 171 Marion | Butko | Steph + 3 | Laborer | Ford Motor |
| 171 Marion | Chladny | Josephine | Factory Worker | |
| 173 Marion | Hercsuk | Aloysia | Factory Worker | |
| 179 Marion | Olszewski | Wojciech & Victoria + 2 | Laborer | Ford Motor |
| 181 Marion | Protz | John | Laborer | |
| 187 Marion | Haval | Anna | Laborer | Ford Motor |
| 191 Marion | Mizak | George | Laborer | |
| Marion | Hovan | Peter & Julia | Laborer | |
| Marion | Janosky | Thomas & Mary | Laborer | Ford Motor |
| Marion | Kozlowski | Joe & Stella | Laborer | Ford Motor |
As you can see, most of them were employed by the Ford Motor Company, which took over the Glasmire brothers business. The image is a layout of Glassmere residential community and the glass plant located across Freeport (Pittsburgh) Road.
Is your surname Olszewski? Do you know what it means?
~
While I was growing up in Western Pennsylvania, I learned from my aunts and uncles that the surname Olszewski had meaning to it and that it was a noble name connected to royalty. Since all these aunts and uncles are now all gone as well as many of the older cousins, my research had to begin into what does the Olszewski surname mean, if anything. Thanks for the Internet, I was surprised at how much I learned about this subject.
There are actually two parts to the Olszewski name. First, there is 'Olszew' and the second part is 'Ski'. Olszew is pronounced 'Ol-shesh', and 'ski', of course, is pronounced just like the sports to ski. Halbert's of Bath, Ohio who is in the genealogy business wrote in a Historiography they published that the Olszewski name is locational in origin. In other words, it is taken from a particular place; a location. Another source (4crests.com) said, Olszewski is a Polish habitation name that comes from one of the places named with the Polish word OLCH (alder) and the addition of SKI. If you look up the word Alder, you will find it is the name of a tree found as part of the Birch tree family. The Alder tree has several varieties, and besides being used for construction or firewood, it is also used for medicinal purposes, according to 4crests. The source further said, it has some folk lore associated with it. So, I interpret all this to mean that the surname Olszewski means 'One who lives by the Alder Tree'.
For years, I have explained this to many people who have asked me what kind of name is Olszewski? Does it have any meaning? Most people assumed it was a Polish, but I never knew that it had a meaning until I did some research. I surmised also that the Olszewski surname identifies the work of a person named Olszewski. That person would be one who makes a living from the forest such as that someone named Olszewski could be employed or be called a lumberman, carpenter, or wood craftsman. If you've not noticed, I purposely selected a wood grain background for this website's pages. The grain is that of the Alder free family.
As for the 'Ski' part of the Olszewski name, I have seen it mentioned or referred to as being a person of nobility. As previously mentioned, I've heard talk from some of my relatives that we who are named Olszewski had a noble name that was associated with royalty. I remember being told that I was even named after a King. A published source I found while researching this nobility association addressed this making the following four points: (1) If you are talking about names found in records from, say the 14th century, and then yes, the source agrees saying: names ending in "ski" were borne by nobles; (2) It wasn't until much later (in time), however, the source further adds: "...during the 16th and perhaps the 17th centuries, non-nobles began using surnames regularly"; (3) Use of 'ski' ceased to be 300-400 years ago when the use of surnames of any sort stopped being exclusive to nobles; and, (4) The 'ski' is an adjectival suffix that means of, from, connected with, or pertaining to and adding further, "It is also associated with a person's occupation or someone's kinfolk."
To add more to this discussion, the same source pointed out there are two additional suffix variants of the Olszewski family name. These include SKY, -OWICZ or EWICZ. The same source said that people have the funny notion that SKY means they are Jewish and the source flat out said: "This is just not true."
Pulling the thread a bit further on this subject, I also found contained in an article written by Iwona Kakiniewicz who lives in Lodz, Poland that wrote: "By and large, the Polish nobility did not take part in the Great Emigration to America in such numbers as the rural populations and workers." Iwona explains: "One can interpret this as due to their better standard of living, obligations to their hereditary estates, and a sense of greater responsibility for the state of their imprisoned fatherland." She adds: "It was the nobles who initiated and organized the uprisings of 1830 and 1863, and created great compositions propagating our cultural heritage and fomenting powerful streams of patriotism." "Obviously, there were nobles who emigrated, but not for economic reasons-rather for the sake of political protest, creative freedom, and inspiration."
Iwona also wrote: "The emigré centers of the time were concentrated in Paris, England, and Belgium, where activists enjoyed the support of manors outside Poland and diplomacy on behalf of Poland." Once someone achieved their goal of arriving in America, Iwona wrote "the links to the old country were constantly maintained by exchanges of frequent correspondence and excursions by emissaries acting in the name of various political camps." To support this and based on my research, (or was it Dominick ???) George "Wojciech" Olszewski was the first to come to America and eventually made his way to Western Pennsylvania after arriving in New York. What is not known is who was it that was here earlier that encouraged him to come to America? George, himself, after he arrived and settled, sought to bring over more of his family relations to include his younger brother Jozef "Joseph", my grandfather. Genealogical records show that Maryanna Runewicz's arrival papers identifies 'George' as the contact and living in Natrona, PA. Maryanna, my grandmother, would become Mrs. Jozef "Joseph" Olszewski. The rest is history as George and Joseph Olszewski married two sisters, Victoria and Maryanna Runewicz, respectively.
There are two additional suffix variants of the Olszewski family surname to include SKY, -OWICZ or EWICZ. The names are Olszewsky and Runewicz, which are associated with Western Pennsylvania Olszewski names. My Grandfather Jozef and his oldest son, John, used a "y" variant spelling their surname name I found in some of the documentation. Jozef (Joseph) and his older brother, Wojceich (George or Albert) married into the Runewicz family.
Here is a few sources for you to use to exploit further and learn perhaps something new to add to your knowledge base:
https://www.family-crests.org/halbert-coat-arms-crest.html

http://www.4crests.com/olszewski-coat-of-arms.html

https://garden.lovetoknow.com/trees/alder-trees

Rodziny, Winter 2015 Journal of the Polish Genealogical Society of America (PGSA), page 3
The Olszewski Coat of Arms/Heraldry and More About the Olszewski Name

~
The coat of arms shown here is recorded in J.B Rietstap's Armorial General. Illustrated by V & H.V Rolland's. This Monumental work took Rietstap 23 years to complete resulting in identification of 85,000 coats of Arms. He wrote that the OLSZEWSKI surname is a Polish habitation name from one of the places named with the Polish word OLCH (alder) + the addition of SKI. The suffix SKI is also found as an ending of Russian surnames, but these are usually of Polish origin. It was also used by Ashkenazic Jews, which is contrary to that mentioned earlier. By the time most Jewish people living on Polish territory were acquiring family names in the late 18th and 19th centuries, it was already widely used as a general surname suffix. The name is also spelled OLSZAK, OLSZACKI, OLSZYCKI, OLSZANSKI, OLSHEVSKI and OLCHIK, to name but a few.
Noted in the Scranton (PA) Diocesan Directory of 12th September, 1868 was the Rev. Daniel D. OLSZEWSKI who presided over the Polish Transfiguration Church at West Hazleton. The earliest Polish surnames were patronymic. The personal names from which they were derived were mainly Slavonic, but as the Middle Ages progressed, traditional Slavic given names, began to give way to saint's names, mainly of Latin origin. Surnames derived from Slavonic personal names are of early origin, and tend to be borne by aristocratic families. Many Polish people acquired their surnames by reason of former residence in a town or village. There are nearly 600 families bearing the arms of a horseshoe enclosing a cross. Some names were changed by immigrants whilst on the boat heading for America and Australia. These transformations were usually to names thought by the immigrants to be more respected in their native land than the one he bore. Many Poles added 'ski' to their names to attain a higher social status since such names were accorded more respect from people of Polish extraction. Thus a larger proportion of Polish names carried this termination in America and Australia than in Poland.
In a couple of cases, some of the family members decided to change their Olszewski name to another. These were Henry and Chester Olls, sons of Wojciech "George" Olszewski. Another was Dominick Olszewski who changed his last name to Laska.
This Olszewski Coat of Arms was drawn by an heraldic artist from information officially received in ancient heraldic archives. Documentation for the Olszewski Coat of Arms design can also be found in Rietstap Armorial General, the same source cited above. Heraldic artists of old developed their own unique language to describe an individual Coat of Arms. Family mottoes are believed to have originated as Battle cries in medieval times. A motto was not recorded with the Olszewski Coat of Arms. In their language, the Arms (shield) is translated from the French language as follows:
Silver: with a red arrow split at base like a chevron, a cross bar on middle third over all.

Above the shield and helmet is the Crest which is described as: "Three ostrich feathers one of silver between two of red."
So, Where did the Olszewski's Originate?
~
To answer this question was initially difficult. Rumors from some of the Olszewski family members said Warsaw, some said Krakow. Immigration papers found for those arriving in late 19th/early 20th century reflected they were from generic places such as Prussia, Russia, Austria, Hungary, etc. When Olszewski's decided to become U.S. Citizens, there were more precise places, but unconfirmed. Shown here is a map that shows Poland highlighted with the boundaries of those places as they were between 1915 and 1918. This information came from: https://culture.pl/en/article/a-foreigners-guide-to-polish-names
I begin this family's story describing the church shown the cover of this book. The Church of the Visitation of the Blessed Virgin Mary represents the Olszewski history dating back to the 18th Century when it was founded as the result of a duel between two Poles. Parish records revealed that it was this same church where many of our early Olszewski ancestors were baptized. The earliest known baptism of an Olszewski was that of my great grandfather, Jan, who was born on 2 January 1833 and baptized at the church the next day on 3 January. From that event forward, it is this church that represents the very foundation of why you are reading this family history about our Olszewski ancestors. Think about it, you would not exist if it wasn't for these, our Olszewski ancestors.